From New York Times bestselling author, Penelope Ward, comes a sexy, STANDALONE second-chance romance.

They called him Mack Daddy. No, seriously, his name was Mack. Short for Mackenzie. Thus, the nickname. Perfect, right?

So was he: perfect. The perfect physical male specimen.

At the private school where I taught, Mack Morrison was the only man around in a sea of women.

Everyone wanted a piece of the hot single father of the sweet little boy.

I was riddled with jealousy, because they didn't know that—to me—he was much more.

They didn't know about our past.

He'd chosen my school for his son on purpose, because Mack and I, we had unfinished business.

As my friend Lorelai so eloquently put it: "Unfinished business between two people who are clearly attracted to each other is like an eternal case of blue balls." And I was suffering in pain from my case.

I was still intensely attracted to Mack. I tried to resist him, immersing myself further into a relationship with another man just to protect my heart.

Not to mention, getting involved with a parent was strictly against school rules. But seeing Mack day in and day out was breaking me down.

And soon I might be breaking all the rules.

Author's note – Told in alternating points of view, Mack Daddy is a full-length standalone novel.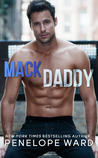 Mack Daddy by Penelope Ward
My rating: 4 of 5 stars

➳A second chance towards love and a delay of time that brings drama to the scene, is exactly what Penelope Ward has done in this poignant story…

➳As a first grade teacher at a Catholic private school, Francesca encounters upon the presence of the one true man she let her emotions open towards, but broke down after their parted ways due to unchangeable circumstances. Seeing Mackenzie (also known as Mack) again stirs feelings in her that she has been keeping away in a capsule for a long time. As those feelings arise, so do the memories of their past history. How they first met, how their friendship evolved from friends, to having a strong physical attraction for each other. Something that did not start off that way. Their encounter as friends in the beginning was purely emotional. Keeping everything sane and thoughts of lust not at one end. Slowly throughout time, and the encounter of a strange feeling of jealousy, they both come to terms that they need each other;
"I'd never had feelings for someone that didn't start out as sure physical attraction. With Frankie, it was the opposite. I was extremely attracted to her brain, to her heart, to just being with her, to how she made me feel…"
➳As feelings and the honesty aroused, drama and obstacles in their path way did as well. After not seeing each other for eight years, Mack and Frankie finally encounter the moment to live and not waste time. Frankie though is in a pickle, trying to figure out her feelings towards a man that broke her heart with the devastating news that he gave her eight years ago and still follows him around with his little tiny shoes, to following the feelings of another man that as come towards her life and shown her that she is safe with him.
➳Overall, this story took a turn that I was no expecting. I am not referring to the story plot, but how Penelope wrote the story in general. I found it rather slow and rapid at the same time. When it came down to the story itself, how Mack and Frankie rekindled, it all went beyond slow. However when it came down to the dialogue, and all their conversations, everything just went absolutely fast. I wished there were a balance in the way she wrote her dialogue because that would have helped me a little bit in comprehending how these two characters actually feel, without the wording of descriptions coming from the inner thoughts of the individual characters. I do not recommend this book for those who are looking for a safe story. This book has everything that is NOT safe, and will make you cringe for sure hahaha! However I did enjoy it, but I hope in the future with Pen's writing that she elaborates a little bit more on her way of writing.
➳Hero rating: 4.0
➳Heroine rating: 4.0
➳Sexual tension rating: 4.0
➳Sex scenes rating: 4.0
➳Sex scenes frequency: 4.0
➳Plot rating: 4.5
➳Dialogue rating: 3.0
➳Storytelling rating: 3.5
➳Story ending rating: 4.0
➳Order Link:
iBooks

ARC kindly provided by author in exchange for an honest review…

➳Follow Me On:
Blog ♕ Instagram ♕ Facebook ♕ Twitter
Penelope Ward is a New York Times, USA Today and #1 Wall Street Journal Bestselling author. She's a fifteen-time New York Times bestseller of twelve novels.

Having grown up in Boston with five older brothers, she spent most of her twenties as a television news anchor, before switching to a more family-friendly career. She is the proud mother of a beautiful 12-year-old girl with autism and a 10-year-old boy. Penelope and her family reside in Rhode Island.
Connect with Penelope Ward
Facebook Fan Group | Facebook | Website |Twitter | Instagram